The secret is out! – Hong Kong's "luxury free-flow buffet brunch" Sundays are the hidden gem everyone is raving about!
This world-famous city truly has so much to offer. From some of the most beautiful architecture, to a long historical tradition, beautiful skyline views, world-class meals, and drinks from all around the world. And now, a new found love for the exquisite world of brunch!
Take a break from your busy work or sightseeing schedule to relax with friends or colleagues at one of Hong Kong's delightful brunch venues. After all, what are weekends for if not to delve into a little, much needed, fun and relaxation. Spoil yourself with great company and pair that together with an amazing array of delicacies at any of the following highly recommended Sunday brunch spots.
Here are the top 4 "brunch-with-a-punch" places you don't want to miss out on.


OZONE at the Ritz Carlton is considered to be one of the most exclusive and famous rooftop sky bars in all of Hong Kong. Situated on the 118th floor of the International Commerce Centre, it's the highest bar in the world!
This incredible bar and restaurant greets every one of its visitors with a stunning blue-hued ambiance. Besides being known for its ideal location, decore, and impressive view, OZONE offers a great selection of exquisite dishes and cocktails. Visitors can enjoy the famous Sunday brunch or bask in the city's lights for dinner. Delight your taste buds with any of their long list of cocktails, wines, and delicious cuisine options.
We recommend the "Dom Perignon Sunday Brunch". – Because who doesn't want to have 3 to 4 hours of free flow of Dom Perignon champagne followed by all varieties of delicious food, fantastic service, and breathtaking views?
Whether you visit OZONE for dinner or for a Sunday Brunch, one thing is certain – it will be an unforgettable experience.

Sunday Brunch time is from 12:00PM – 3:00PM
Dress code: Smart Casual


Located on the 6th floor at the Austin Road in Kowloon, this restaurant represents the fun and innovative design W Hotels are known for.
Kitchen at the W is designed as a modern bistro offering a buffet with a multitude of international dishes from all around the world. Visitors can enjoy everything from dim sum, to sushi, a fresh seafood selection, healthy salads, and a list of mouthwatering desserts.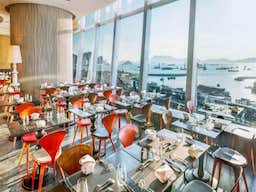 We recommend trying out the recently improved "Bubbly Seafood Sunday Brunch". All visitors can indulge in a wide range of sensational appetizers, seafood options, hot dishes, desserts, and much more. All accompanied by a free-flow of Veuve Clicquot Champagne.

Sunday Brunch time is from 12:00PM – 3:00PM
Dress code: Smart Casual


Located on the 18th floor of the Sheraton Hotel, is the beautiful Oyster and Wine Bar. Its inspiring panoramic view of Victoria Harbor matches beautifully with the freshly caught oysters and carefully selected wine list.
Whether you're a seasoned expert or completely new to the experience of wine and oyster tasting, there are Sommeliers and Oyster Specialists ready to share their professional advice.
The Sunday brunch is designed as a semi-buffet with main dishes served a là carte, while appetizers and desserts are buffet style. The choices to choose from are plenty. From steakhouse classics, seafood dishes, crab, house-cured salmon, sashimi and so much more. The free-flowing Perrier-Jouët Grand Brut is included in the basic price, however, the guests can also choose to upgrade to a rosé or blanc de blancs.

Sunday Brunch time is from 12:00PM – 3:00PM
Dress code: Smart Casual


Located at the harbor's edge is the popular Harbourside. This sophisticated restaurant offers its visitors a la carte and buffet options peppered with delicious international dishes, fine drinks, and tasty homemade desserts.
Its windows stretch from floor-to-ceiling providing a picture-perfect view of Victoria Harbor with an inviting and relaxing vibe.
Sunday Brunch is a popular time to visit Harbourside. The brunch menu is filled with an exquisite array of Western and Asian dishes, including appetizers, fresh seafood, sushi, sashimi, and so much more. All accompanied by a free-flow of Perrier-Joüet Champagne.

Sunday Brunch time is from 11:30AM – 3:00PM
Dress code: Smart Casual


Reach Your Restaurant of Choice With Ease and Comfort

For all the brunch lovers out there, make sure you arrive at the doorstep of your favorite restaurant with the ultimate comfort and minimum hassle!
A private car service is the best choice when it comes to planning a wonderful Sunday brunch session with friends, family, or colleagues.
Have a vehicle waiting for you, and enjoy a transfer tailored to your schedule and needs. With a 24-h available customer support team, all your questions and requests can be met in no time at all. Eliminate the unnecessary taxi hailing, waiting-time, and unpredictable ride fare. Instead, board a modern car of your choice, with a professional English speaking driver familiar with the best route.

There's nothing else left to do, just relax and enjoy the best brunch in town!


Asia Car Service provides private limousine transfers. If you are interested in private car service for your weekend brunch journey, please don't hesitate to contact us: bookings@asiacarservice.com.


We're also excited to offer you a $10 discount on your first service with our company, redeemable with this promo code 10CARBLOG. Just click the image below and get your discounted quote!