Seoul and Busan are are considered to be the two best cities in South Korea. As such they have a rich culture, great nightlife, and mesmerizing city skylines. From the spectacular seaside to the historic temples, these cities offer everything one would want to see or do, during a visit to South Korea. So it comes as no surprise that every itinerary of South Korean vacation package includes both of these cities, offering tours that allow each person to experience the wide heritage and natural beauty, of both Seoul and Busan. The two places, however, are located in different corners of the country, which will require some pre-planning to travel from Incheon Airport to Busan.
If you are planning a trip to Busan and are looking for the best ways on how to get from Seoul Airport to Busan, then this guide is here to help. In this post, we will compare the best transportation options between the two cities based on the following 4 criteria:


Time: How many hours do I have to spend to get from Seoul Airport to my Busan destination?


Convenience: How many transit switches and different modes of transport will I have to make?


Comfort: How comfortable am I sharing a full vehicle, and walking with all my luggage for varying distances at different points in the journey?


Cost: What is my budget for this journey? Am I willing to spend more for a reduced time, increased convenience, and comfort?


Option 1: Seoul to Busan by Bus
Travel Time: 3 – 4 hours
Comfort: Moderate
Convenience: Moderate
Cost: $$


Summary & Recommendation:

Seoul Airport bus to Busan is convenient for all those that are not in a hurry, want an economical travel option, and are familiar with the local language.
There are two main types of Seoul Airport buses – deluxe and standard buses. The standard ones make more stops on their route and therefore, take more time to reach the final destination, than the deluxe buses. Moreover, standard buses are often quite crowded, while the deluxe buses make fewer stops and are more spacious. The Airport deluxe bus takes you straight to your final destination in Busan, whereas the standard ones may stop at a nearby subway station. From there, you have to make your way to reach your final destination.
The bus departs from the airport every 10 – 15 minutes during the day, and every 40 – 50 during night. As the bus has a fixed schedule, you will have to plan your arrival to Seoul Airport accordingly. Taking the airport bus service is not recommended for those traveling in a group, family members, senior citizens, and those carrying many pieces of luggage. A far more suitable and comfortable way of travel would be a spacious MPV or a passenger van hire. 
Travel Steps:
Step 1: For Terminal 1 – Purchase Ticket at Terminal 1 Ticketing Counter Next to Exit 9 and 4 in Arrival Hall Floor 1 (indoors) or Counter next to Exit 9C, 13, 11, 8, 7, 6, and 4 (outdoors).
For Terminal 2 – Purchase Ticket at Terminal 2 at Ticketing Counter (indoors) on the 2nd Transportation Center (B1).
Step 2: Check your ticket to learn the bus platform number. For instance, 04B means Gate No. 4, while the letter defines the side of the gate on which to take the bus (B is for the right, and A is for the left).
Step 3: Upon reaching your bus platform, board the bus.
Step 4: Travel to Busan and make your way to your final destination


Option 2: Seoul to Busan by Train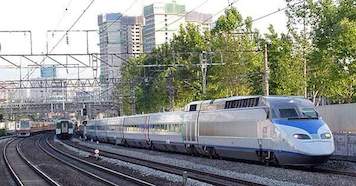 Travel Time: 2 – 3 hours
Comfort: Moderate
Convenience: Moderate
Cost: $$


Summary & Recommendation:

Another travel option from Seoul Airport to Busan would be the train (KTX). Korea Train eXpress is a high-speed rail system of South Korea that connects the major cities of the country. Those include Busan, Mokpo and Seoul. If you arrive at the Airport during the train operating hours, you can easily catch a KTX train going to Busan.
One important thing to note is that there are no direct KTX trains operating from Seoul Airport to Busan. You will first need to reach the Seoul train station in order to catch the KTX train. Similar to bus transport option, you will be are required to plan your journey around the KTX timetable.


Travel Steps:

Step 1: Get to Transportation center of AREX at the airport, which is on the B1 floor.
Step 2: This train will take you to the Seoul station where you can switch to KTX.
Step 3: Now, you can take the Gyungbu Line to reach Busan.
Step 4: Make your way to reach your final destination.


Option 3: Seoul to Busan by Car Service
Travel Time: 1 – 2 hours
Comfort: High
Convenience: High
Cost: Get a Quote


Summary & Recommendation:

Car service is by far the most convenient, comfortable, and reliable transport solution. This single step door-to-door transport service will provide you with the most benefits. You'll get professional and experienced drivers who know the best routes and can speak English. They'll be able to accommodate to your schedule and will know your itinerary before you've even arrived. All booking and planning is done ahead of time in a quick and efficient manner. The best part of the car service is that it is available 24 hrs. So, there are no waiting times, no ticket purchases, and no last-minute mishaps.
You should consider a Private Airport Car Service if you want a premium level of comfort during your travel to Busan. The car service offers additional peace of mind, complete convenience and comfort, zero planning and no unnecessary time wasting.


Travel Steps:

Step 1: Exit the Airport Arrival Hall
Step 2: Meet Your Driver and board the vehicle
Step 3: Travel to Your Final Destination in Busan


Final Thoughts
There are several options for getting from Seoul Airport to Busan. It really depends on your travel preferences as well as those traveling with you. For those traveling internationally from the U.S. and elsewhere, having a door-to-door private car service is ideal. A car service offers professional drivers who will greet you on your arrival and will wait for you even if your flight is delayed. All car services are door-to-door, so you're guaranteed a safe, smooth and worry-free ride to your final destination.
However, if you are looking to save a little on transfer cost and don't mind longer travel time, there are suitable local transfer options as well.
Hopefully with this guide you're better prepared for what to expect on your visit to Seoul and Busan. At least in terms of transport, you'll know exactly what's available and which choice is best for you.
We hope you have a wonderful time in Busan!


Asia Car Service provides private limousine transfers. If you are interested in private car service for your Seoul Airport to Busan journey, don't hesitate to contact us: bookings@asiacarservice.com.


We're also excited to offer you a $10 discount on your first service with our company, redeemable with this promo code 10CARBLOG. Just click the image below and get your discounted quote!